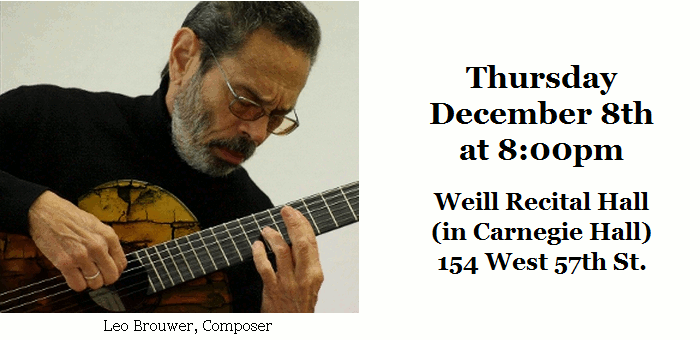 Hi Everyone,
For those of you who don't know Leo Brouwer's work, I'm excited to introduce you to a wonderful composer! Brouwer who won a Latin Grammy award earlier this year for his CD, Integral Cuartetos de Cuerda (complete String Quartets) was born in Havana on March 1, 1939. The CD was recorded to commemorate the composer's 70th birthday. He is one of Cuba's leading classical guitarists and composers.
Leo Brouwer began composing and publishing his guitar pieces in the mid-1950s, but did not begin formal training until coming to the United States in 1960 to study at the Juilliard School. He traveled to Europe where he became fascinated avant guarde music, but his commitment to the role the artist in a revolutionary society, brought him back to Cuba where he has held posts with Radio Havana, the composition department of the Havana Conservatory and the music department of the Instituto de Arts Industria Cinematograficos for which he has written the scores for more than sixty films. His enormous influence on guitar music in particular and classical music in general is demonstrated by more than a hundred recordings on which he has played, composed or conducted.  Brouwer's compositions reflect classical, Afro-Cuban, jazz and avant-garde influences.
Brouwer's Tres Danzas Concertantes, which guitarist, Oren Fader will play with pianist, David Oei, on our December 8th concert was  originally written for solo guitar and string orchestra in 1958. It is Brouwer's earliest significant work, dating from the years when instinct more than training was driving his creativity. In Brouwer's words,
These pieces were a sort of résumé of my first hearings of Bartók and Stravinsky. Harmony? I knew nothing of harmony, but I had in my head the sounds I wanted, vertical and horizontal. I was clearly thinking of the spirit of my country, of the Afro-Cuban drums. Three dances from my country, my culture — some of their melodies sound Asiatic, some harmonies sound European, and the rhythms are African. That's Cuba!
I hope you will join us on December 8th in Weill Recital Hall (in Carnegie Hall) for this beautiful and interesting program which also includes Beethoven's buoyant Serenade for String Trio, Op 8 and the lushly romantic Piano Quartet by Richard Strauss.